Schools
Solutions for a new era of education
Personal responsibility is the key that unlocks OPTIMAL performance & wellbeing
Schools are the nurturing grounds of curiousity and the launching pad for dreams. They are beacons of opportunity where aspirations are kindled, new thinking is ignited and potential is realised.
While creating this reality is the responsibility of many, school leaders are the architects of change. They work tirelessly to foster the conditions that optimise the performance and wellbeing of staff and students by cultivating and maintaining a positive school culture, optimising the use of resources, instilling best practice and leading innovation and change.
Despite their best efforts, the performance and wellbeing of many staff and students is still
sub-optimal
.


Why? Because the traditional education system privileges outputs and outcomes, overlooking the qualities, conditions and attributes that drive success.
If your students and staff lack agency, purpose or the ability to think, despite your best efforts, their success is limited and will not transfer beyond school.

If your students and staff lack high quality connection, impactful support or effective systems, despite your best efforts,

their success will be capped.

If your students and staff lack awareness, acceptance or hope, despite your best efforts,

any success they achieve is a dangerous illusion.
Conversely, if your staff and students are strongly displaying and experiencing all of the drivers of success,
optimal performance and wellbeing is guaranteed.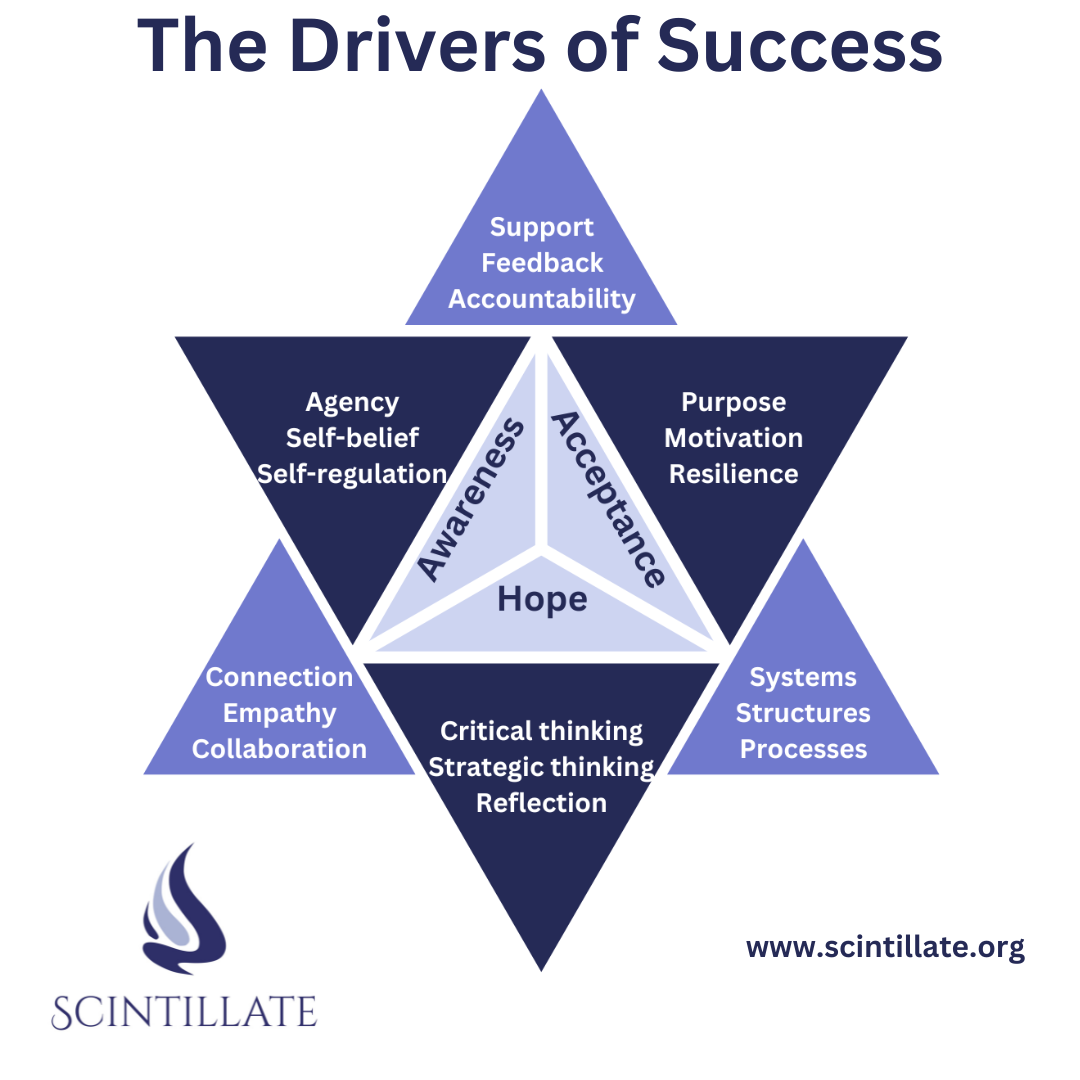 A six-step process that unlocks success
Scintillate offers a range of solutions for students, staff, leaders and parents that can be tailored to suit your school's needs. While schools are welcome to direct purchase any of our solutions (traditional coaching, self-reflective coaching tools, workshops, online courses and diagnostic tools), we recommend engaging in our six steps to success which has been designed to simplify implementation and fast-track impact and comes with a money back guarantee.
1. Consult
A free 1 hour consultation to explore your school's unique context, strengths and needs.
2. Diagnose
Implement the Drivers of Success for Students diagnostic (parents & staff diagnostic optional).
3. Review
Review aggregated data that illuminates trends & identifies strengths & weaknesses by cohort & group.
Schools can then opt to engage in a targeted intervention.
4. Strategise
Identify objectives, target groups, solutions, metrics & implementation strategy.
Implement solutions, manage stakeholders, monitor progress & troubleshoot.
6. Evaluate
Performance data that evaluates impact, highlights growth & suggests next steps.
How Scintillate can help you
Before
unmotivated
feel disconnected
blame others
resistant to change
overwhelmed
feel unappreciated
frustrated
reactive
overwhelmed
blame school
feel disconnected
unaware
Scintillate's solutions:
Recognise and privilege individuals as the drivers of their own growth

Promote and support personal responsibility for optimising performance and wellbeing
Generate authentic opportunities for support and development conversations that are targeted, efficient and effective
Inform decision making, resource allocation and strategic thinking
Are easy to implement, evidence based and effective
Support students, teachers, leaders and parents
Deliver impact at scale
After
motivated
feel understood
take responsibility
have a growth mindset
feel inspired
feel engaged
effective
proactive
strategic
sense of partnership
feel connected
greater understanding

Maximise performance and wellbeing while saving time and money
Scintillate improves outcomes for students. | Scintillate improves outcomes for teachers. | Scintillate improves outcomes for school leaders. | Scintillate improves outcomes for parents.
Benefits for students
More confident
Happier
Better results
Feel more in control
Greater clarity
More resilient
Feel more understood
More ambition
More trust with teachers
Feel more supported
More engaged

Benefits for teachers
Better understanding of students
Better connection with students
Greater job satisfaction
Less conflict
Less critical incidents
Better able to support students
More engaged students
Improved connection with parents
Happier
Less stress

Benefits for leaders
Improved student performance
Improved student wellbeing
Improved student attendance
Improved student engagement
Less critical incidents
Improved staff wellbeing
Improved staff performance
Improved staff retention
Resource optimisation
Greater job satisfaction
Greater parent satisfaction
Benefits for parents
Better understanding of child
Better communication with child
Greater trust with child
Better connection with school/teachers
Better communication with school/teachers
Greater trust with school/teachers
Less conflict at home
Less conflict with school