Individuals
Powering your personal development
Personal development empowers us to reach our true potential. It cultivates self-awareness, enhances emotional intelligence and resilience, enables us to navigate life's challenges with grace and fuels creativity and innovation, propelling us upwards to new heights.

By investing in our own growth, we not only enrich our lives but also inspire those around us.

Personal development is also H.A.R.D.

it requires us to look deep within ourselves and face our insecurities, limiting beliefs and fears and forces us to step outside of our comfort zone, embracing challenges and taking risks.

Embracing personal development is not just a choice; it's a commitment to living a life that radiates positivity, purpose, and progress.
Scintillate has three solutions that power your personal development journey
Drivers of Success diagnostics
Breakthrough and Breakfree coaching packages
A suite of self-reflective coaching tools
Solution #1
The Drivers of Success Diagnostic Report: Individuals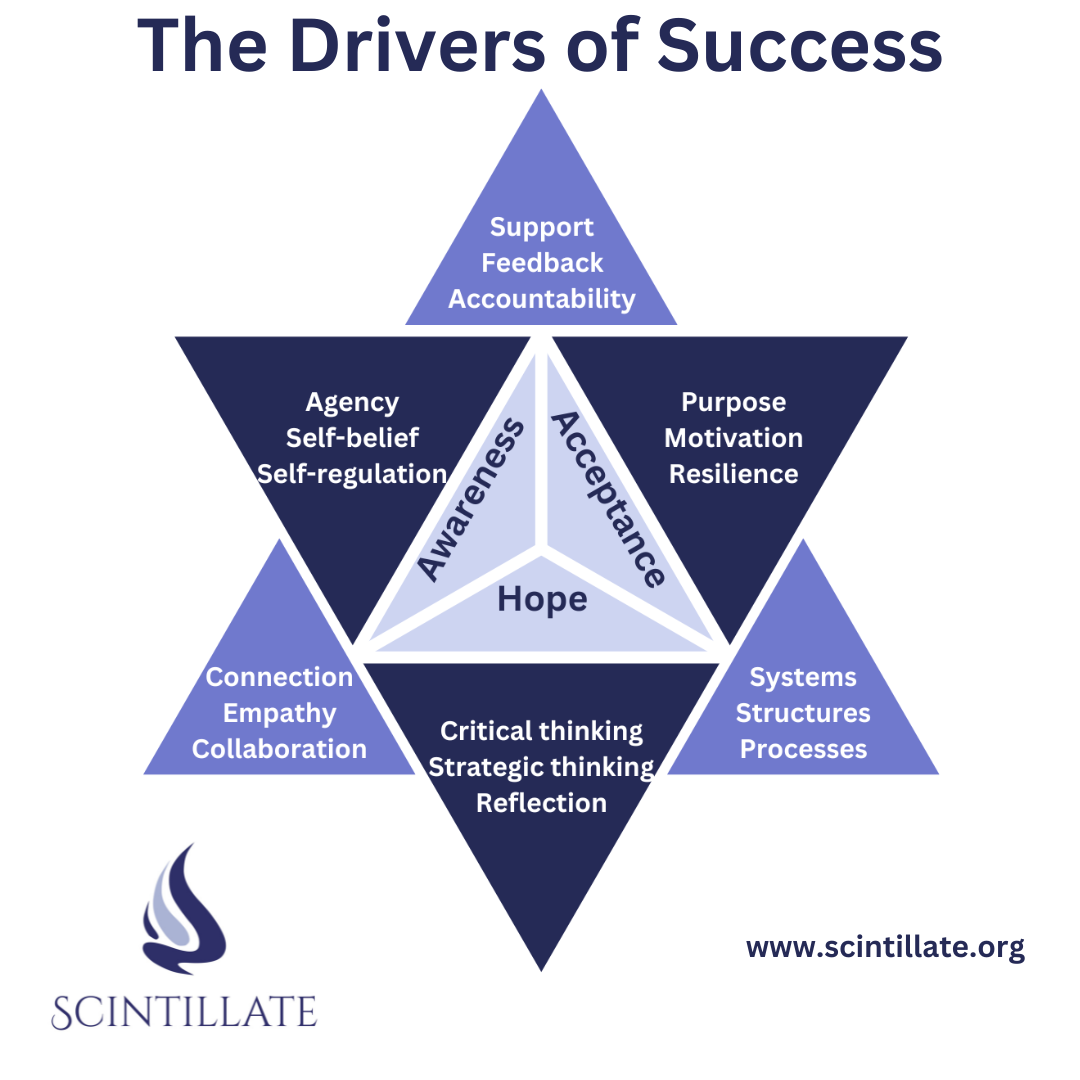 The drivers of success are the 21 qualities and attributes that determine or drive our success.
When we are strongly displaying and leveraging the drivers, our success is pretty much guaranteed. If we are lacking in any of these attributes, however, not only will success be harder to achieve, but it can also very easily be taken away.
The drivers are categorised as internal (dark blue, downward triangle), external (sky blue, upward triangle) and core (light blue, central triangle).
The drivers are not fixed: they fluctuate up and down.

The drivers are interconnected, change in one driver results in change in all.


After completing the 10 minute Drivers of Success diagnostic tool takes you will receive a 15 page, easy-to-read report which:
outlines what the drivers are and why they matter
highlights your strengths and areas for growth
suggests strategies for improvement that are easy to action and effective.


To assist you to monitor, benchmark and track your progress, you will be provided with 12 months access from date of purchase.
Take the survey
The Drivers of Success diagnostic surveys take 10 minutes to complete and can be accessed via a computer or your mobile device
Review the report
The easy to read report outlines what the drivers are and why they matter, highlights what you scored and suggests strategies for improvement
Chat and connect with others
The diagnostic reports provide you with a powerful opportunity to have an authentic and impactful conversation with others
Solution #2
Individual coaching packages that
fast-track & embed success
Scintillate's premium offering is our individual coaching packages. There are two packages available: breakthrough coaching or breakfree coaching.

Our breakthrough coaching package is for people who are on the verge of greatness. The focus of the coaching is to support you to articulate your long-term, medium term and short-term goals and identify, instil and embed the positive habits, systems and mindset that will power your success

Our breakfree coaching is for people who feel stuck in a rut. The focus of the coaching will be to support you to explore the limiting beliefs and harmful behaviours that are keeping you stuck, unpack and articulate an authentic, realistic and meaningful vision for success and identify, implement and embed the mindset, actions and routines that will enable sustainable and measurable growth.

Both coaching packages are conducted by highly experienced and professionally certified coaches and incorporate best practice approaches from the executive coaching field.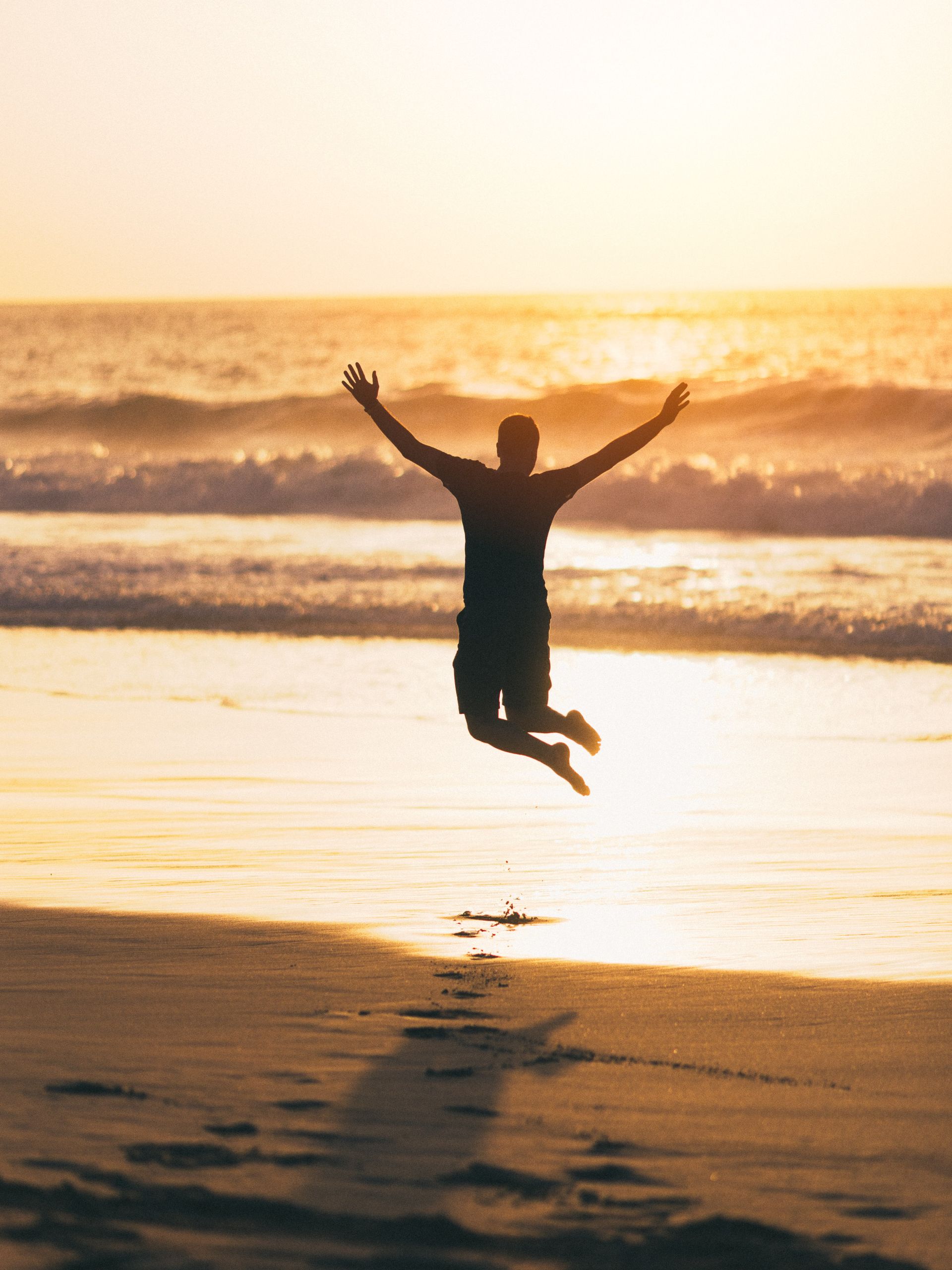 Best practice coaching approaches that fast-track & embed sustainable success
9 hrs of coaching
9 x 1 hr coaching sessions with a professionally certified coach & educator that will fast-track and embed your child's happiness & success
Diagnostic tools
Use of diagnostic and profiling tools to benchmark progress identify motivations, highlight strengths and spot limitations
Three-way meetings
An option to include a friend or partner in a three way meeting to promote greater awareness, increase support and enhance impact
Between session tasks
Suitable between session tasks that support progress and scaffold growth will be identified, agreed upon and enacted
Satisfaction guarantee
Your satisfaction is assured. Scintillate provides all clients with a money-back guarantee
Solution #3
Self-reflective coaching tools: easy, effective, affordable & scientifically proven
Scintillate has developed an innovative way to scale the power of coaching, at the fraction of the price.

By fusing coaching methodologies (such as frameworks, questioning techniques, a solution focus and positive psychology), with traditional self-reflection, Scintillate has developed a suite of self-reflective coaching tools that have been scientifically validated and shown to be highly effective at improving your performance and wellbeing in just four simple steps.
Improve performance, trust, understanding, communication & wellbeing in four simple steps
You complete a self-reflective coaching tool (5-15 minutes) via our website or app, improving your clarity, autonomy, motivation & positivity.
You receive an electronic response log with a mentor or supporter, which serves as a useful artefact to prompt and track growth.
You can also choose to share this response log with a partner, friend, mentor or coach, improving their understanding & support.
This process naturally triggers follow up support & development conversations that are authentic, efficient & impactful, optimising performance, wellbeing & trust.
Self-reflective coaching tools that turbo-charge your growth
'New thought, new actions' series

The 'New thought, new action' series assists you to see your life from a new perspective, to develop action plans for growth and to feel happier and more confident.
6 tools

Backbone & heart


Getting unstuck

Power up your performance


PROGRAM


PROGRAM Lite


SMARTEN it up

Your life, by design series
The 'Your life, by design' series supports you to take greater ownership of your life, setting longer and shorter-term goals that are meaningful and achievable.
5 tools
Dynamic day

Weekly wishes.

Masterful month

MISSION

North STAR
'Reframe, recalibrate & recharge' series
The 'Reframe, recalibrate & recharge' series supports you to reframe your perspective, recalibrate your expectations and actions and recharge your energy.
Reframe

Recalibrate

Recharge

Scintillate's solutions enhance your: